OEDC Newsletter - September Edition
9/17/2012
About Us | Available Properties | Vacancy Rates | Business Assistance | Events | News | Contact

September 17, 2012
OEDC NEwsletter - September 2012
Town of Orange's Edison Road Extention Project - Out To Bid

The Town of Orange, with the assistance of the Orange Economic Development Corporation has put the Extension of Edison Road construction project, "Out to Bid". The project which will connect Edison Road to Marsh Hill Road was officially advertised on Saturday, September 15, 2012.
A bid walk through will be held on Monday, September 24, 2012 and the bids are due Wednesday, October 3, 2012. Bids may be picked up at the Town of Orange, Public Works Department at 617 Orange Center Road, Orange CT.


OEDC 6th Annual Golf Tournament - Friday, September 21, 2012
The OEDC is looking forward to holding their Annual Golf Tournament on Friday, September 21, 2012 at the Orange Hills Country Club. For Tournament details, please visit the OEDC Website. The general public and last minute walk-ons are invited to attend. Cost per player is $175.00 and your choice of dinner includes Steak or Lobster. Registration begins at 10am and Shotgun Tee time is 11am. Many thank to our Tournament Sponsors:
PEZ Candy

Cohen and Wolf

Eagle Leasing, Inc., and

NORTHEAST Electronics, Inc.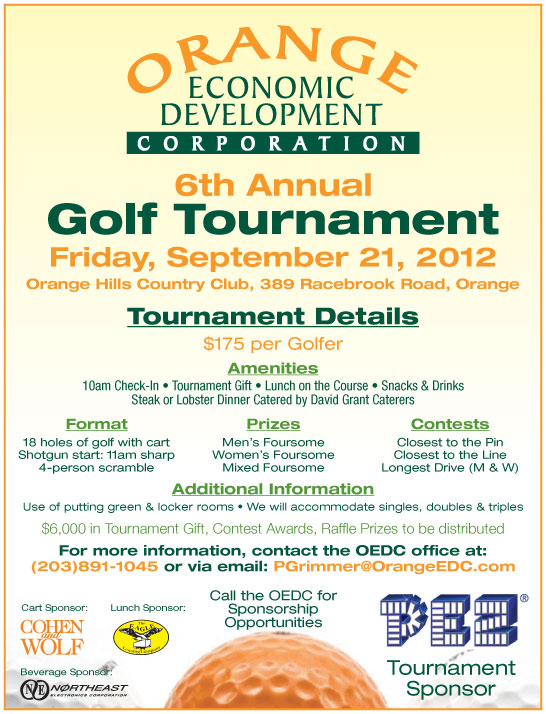 Orange Chamber of Commerce - 50th Anniversary Celebration

The Orange Chamber of Commerce held their their 50th Anniversary Celebration at the Race Brook Country Club on September 12, 2012. The event, was graciously sponsored by TD Bank, and honored the following:
The Town of Orange - Special Recognition Award


Race Brook Country Club - Outstanding Business Award


The Orange Lions Club, Community Service Award, and


A Special Lifetime Achievement Award celebrating Mr. Joseph Cuzzocreo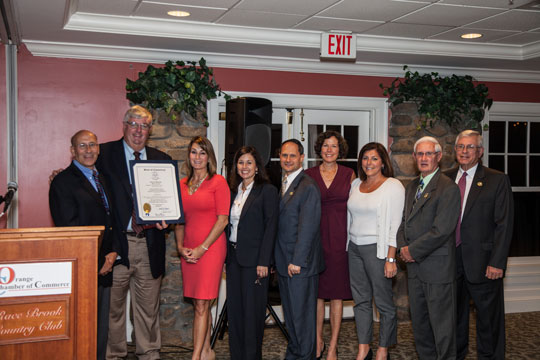 Orange Economic Development Corporation
605A Orange Center Road, Orange, CT 06477 Phone: (203) 891-1045 Fax: (203) 891-1044
Email: pgrimmer@orangeedc.com Web: OrangeEDC.com
---
8/1/2012
OEDC Newsletter - August Edition
«
previous
11/5/2012
OEDC Newsletter - November Edition
next
»