OEDC Golf Tournament - 2024
Join us for the
18th Annual OEDC Golf Tournament
TUESDAY, SEPTEMBER 17, 2024

Race Brook Country Club
246 Derby Avenue, Orange, CT
Join us for a fun day on the course! Good friends, delicious food & drink, player gifts, exciting raffle prizes, and as always a chance to network.
REGISTRATION OPENS IN JANUARY 2024
$225

Player Fee Includes
Lunch Reception
18 Holes of Golf with Cart, Greens Fees
Snacks, Beverages on the Course
Tournament Gift, Giveaways
Contests
Cocktail Reception
The Fun Factor and Networking Opportunities Are Worth Every Penny!
TOURNAMENT DETAILS
11:00 am - Noon ..............Check-in
12:00 - 1:00.......................Lunch Reception
1:00........... ...................... Shotgun Start (Format is four-person Scamble)
Conclusion....................... Cocktail Hour
Raffle Winners: Names will be picked during the day and posted at our welcome table. We ask all golfers to stop by our welcome table before departure to pick up your prize.
Contest Winners: will be determined after all golfers complete play and winners will be contacted via phone - prizes can be picked up at our office in Orange or mailed depending on prize size
(Hole in One is insured through Hole in One International)
Lunch Only Reservations
If you wish to join us for lunch, you may call the OEDC office at (203) 891-1045 or complete the registration form, Lunch Only section. Lunch only tickets are available.
How To Pay
Pay by check – Make check payable to OEDC prior to the Tournament
If you wish to pay by credit card, call our office with your information and a live link will be provided
2023 SPONSORS - CONTRIBUTORS
Tournament

Venue

Ball

Fire Tech

Hole in One

Tamaro Oil Corporation

Raffle

Hurwitz, Sagarin, Slossberg & Knuff, LLC

Lunch

Eagle Leasing Co.

Cart

Yale West Campus

Gift

TD Bank

Pie

NE Fire Equipment & Apparatus Corporation

Cocktail Reception:

NORTHEAST Electronics

Swag Bag:

Ion Bank

Beverage:

Golf Bag:

F&W Equipment

On-Course Donations:

Eli's Restaurant, Orange Ale House, Litchfield Distillery, La Fonda Colombiana

Tournament Contributors:

Dichello Distributors

Contest:

UIL Holdings

Service Donations:

Thomas Cushman Massage Therapist - massages

Golf Lounge 18: Technical Swing Analysis

Product Donations:

CT Sports Center, Docs Urgent Care, Ion Bank, Orange Cigar Lounge
2023 TEE SIGN SPONSORS
Allbright Electric
Appicella Adjusters
BBI Technologies
Colonial Properties
Cretella & Belowsky Insurance
Dichello Distributors
Eagle Leasing
F&W Equipment
Fire Tech
Hurwitz, Sagarin, Slossberg & Knuff, LLC
Milford Bank (The)
New England Fire Equipment & Apparatus Corporation
New Haven Terminal, Inc.
Norcom
Orange Fence and Supply
Orange Visiting Nurse Association
Paul The Plumber
Prindle Hill Construction
Ring's End
Ruotolo Mechanicals
Shop Rite Orange
Suzuki Music Schools of Orange & Westport
Tamaro Oil Corporation
TD Bank
TrinityPoint Wealth
UI Holdings
Yale University West Campus
2022 DONATION
We are pleased to partner with the
ORANGE VOLUNTEER FIRE DEPARTMENT
in which we will donate a portion of our proceeds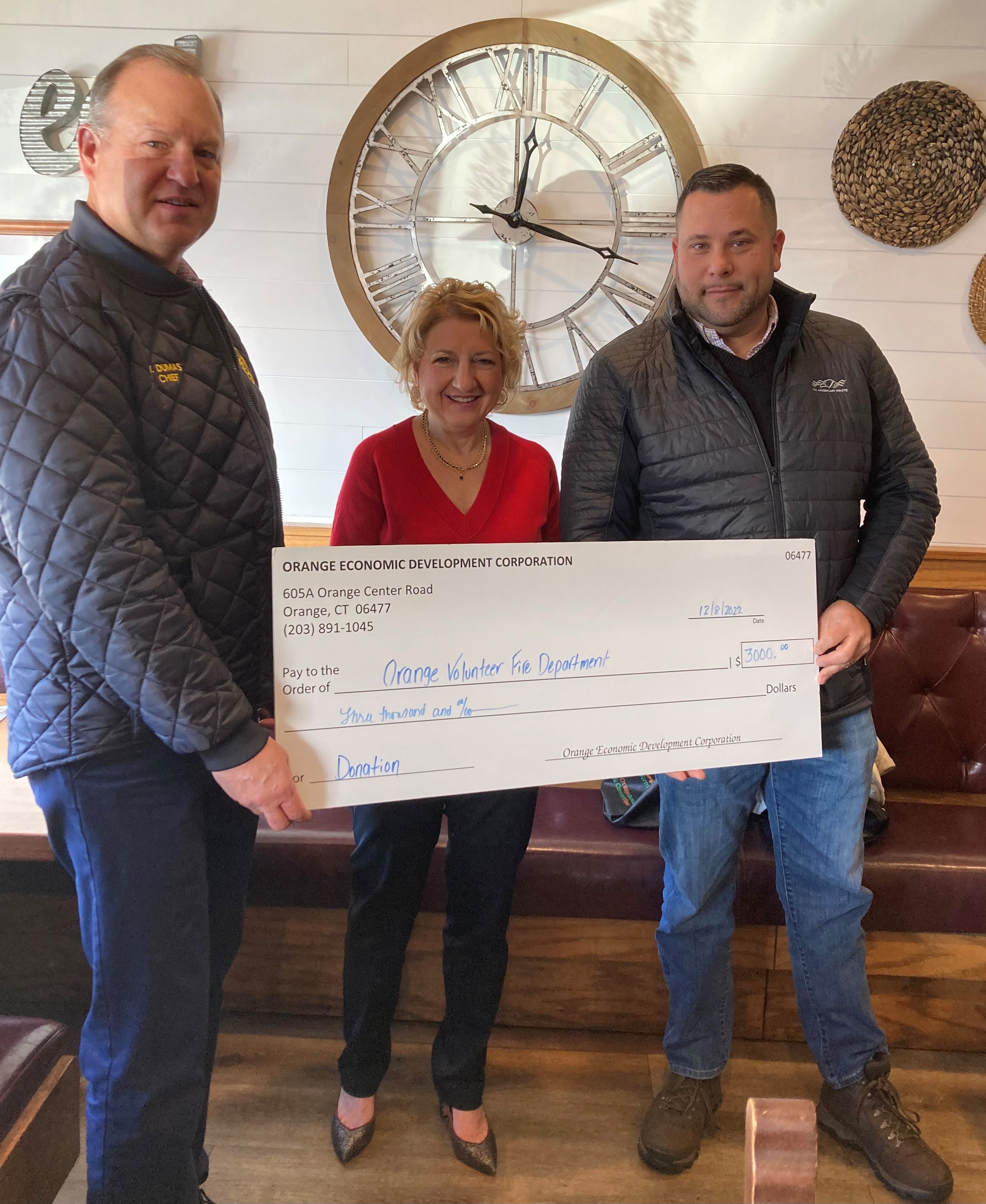 A donation of $3,000 was made to the Orange Volunteer Fire Department from the 2022 golf tournament proceeds. Pictured from left to right:

Chief Vaughan Dumas (OVFD),

Debbie Clancy (OEDC President), and Mike Latella (OEDC Board Member)
2021 DONATION
We are pleased to partner with the
ORANGE VOLUNTEER FIRE DEPARTMENT
in which we will donate a portion of our proceeds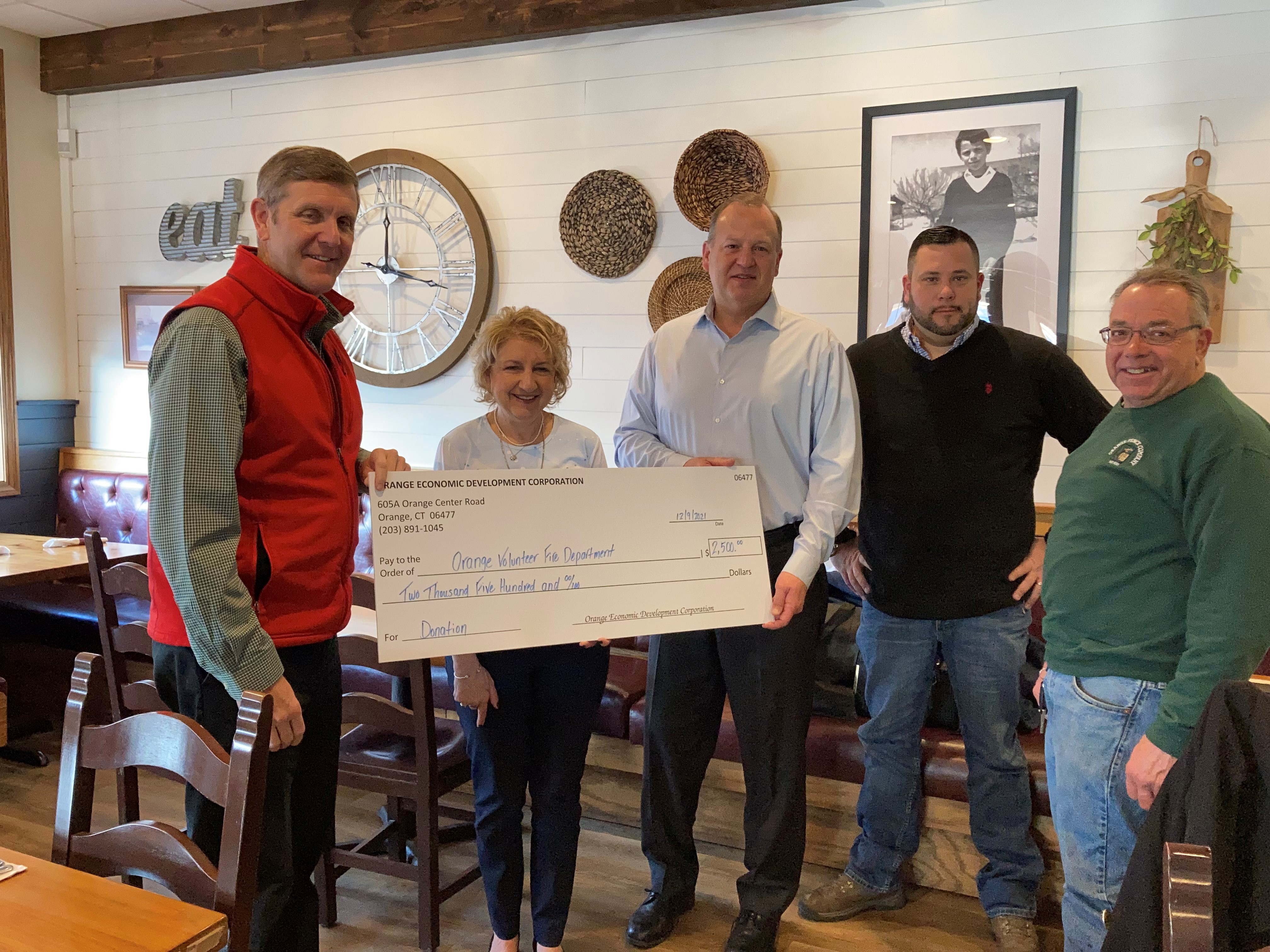 A donation of $2,500 was made to the Orange Volunteer Fire Department from the 2021 golf tournament proceeds. Pictured from left to right: Paul Gehr (OEDC Treasurer), Debbie Clancy (OEDC President), Chief Vaughan Dumas (OVFD), Mike Latella (OEDC Board Member) and Roy Cuzzocreo (OEDC Board Member)