OEDC Newsletter - July Edition
7/10/2012
About Us | Available Properties | Vacancy Rates | Business Assistance | Events | News | Contact

July 2012
OEDC - July Newsletter
July 10, 2012


Orange Economic Development Corporation Unveils New Website
For many people this will be their first oportunity to view the OEDC's new website. The site has been completely redesigned and will incorporate some very interesting elements, including:
CERC SiteFinder - Available Property Inventory

Online Employment Database - For employers & those looking for employment

News Modules - Complete with RSS News Feeds
We encourage you to visit the website and welcome your comments on the new website. To view the website go to: www.orangeedc.com

New Business Development - June 2012
The Town of Orange officially welcomed numerous
businesses to the community with Grand Opening Ribbon Cutting Ceremonies, courtesy of the Orange Chamber of Commerce. These new businesses include:
Batteries Plus, 481 Boston Post Road

Chris Lyle & Associates, 280 Boston Post Road

Colony Hardware, 269 South Lambert Road

Helping Hands Thrift Shop, 334 Boston Post Road

Lush's Diner, 285 Boston Post Road

Physical Therapy and Sports Medicine, 240 Indian River Road

Ribbon Cutting Ceremony Held at Helping Hands Thrift Store and Furniture Bank - June 11, 2012

Awards Presented at the 2012 Orange Expo's Kick-Off Breakfast
The Orange Economic Development Corporation presented awards to 4 deserving local business's at the Orange Business & Community Expo's Annual Kick-off Breakfast, which was held at the Race Brook Country Club on June 13, 2012.
Awards and their respective winners include: (pictured below)
Lifetime Achievement Award - Mr. Bruce Bickley, President of Racebrook Country Club

New Business of the Year - Mr. Jason Moon, Owner of Nuvita Frozen Yogurt

Community Service Award - Mr. Kevin Gilbert

Business Person of the Year - Mr. Rocky Salperto, Publisher of the Orange Town News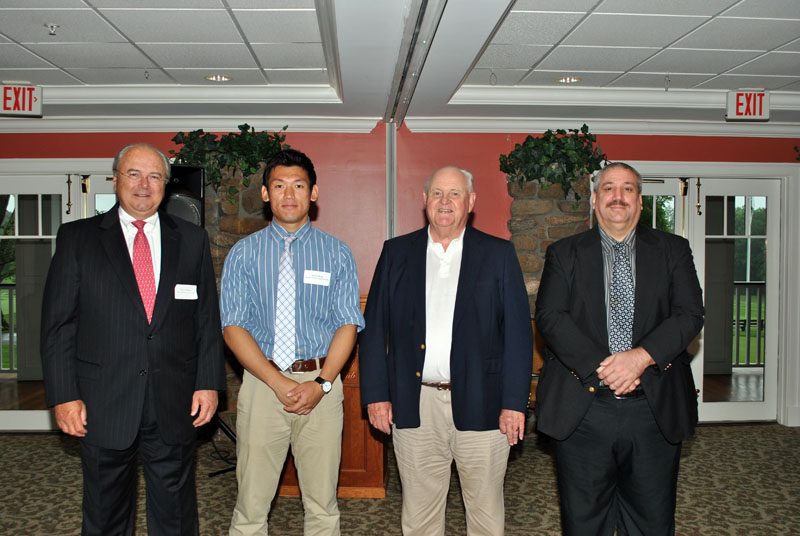 Case Memorial Library Promotes Show your Card Program
Want an easy (and free!) way to connect with Orange residents? Join the Case Memorial Library's "Show Your Card" promotion.
For the first year, the Case memorial Library is parntering with the community businesses for a promotional event, "Show Your Card." It's simple: you decide on something you'd like to offer Orange residents who show their library card when making a purchase -- a discount, a small gift, a free service, anything that you think will generate traffic to your business--and the library will pulicize your participation and provide your business with promotional materials to display at no additional cost to you.
Library cardholders are reminded of the benefits of having a library card and your business has the opportunity to generate awareness and increase your customer base.
It's a win-win promotion!
If your business is interested in particpating, or you would like more information, please contact Meryl Farber, Library Director, (203) 891-2170, mfarber@lioninc.org or Rebecca Harlow, Head of Reference and Adult Services, (203) 891-2170, rharlow@lioninc.org by July 30, 2012.
Orange Economic Development Corporation
605A Orange Center Road, Orange, CT 06477 Phone: (203) 891-1045 Fax: (203) 891-1044
Email: pgrimmer@orangeedc.com Web: OrangeEDC.com
---
8/1/2012
OEDC Newsletter - August Edition
next
»