State of CT News & OEDC Happenings
11/4/2020
RETURNING TO A MODIFIED PHASE 2:
Effective Friday, November 6th, the State of Connecticut is rolling back to Phase 2.1 (a modified version of Phase 2 rules). The change consists of:
Restaurants - Reduced to 50% capacity (max of 8 people per table) and be required to close by 9:30 pm (not including food for take-out)
Personal Services - No change (will remain at 75% capacity)
Event Venues - Limited to 25 people indoor, 50 people outdoor
Performing Arts & Movie Theaters - Capacity of 100 people
Entertainment (bowling allies, movie theaters, arcades, etc.) - Required to close by (9:30 pm)
Religious Gatherings - Limited to 50% capacity or 100 people maximum
Read the details: LATEST GUIDANCE & WHAT IS OPEN
CONNECTICUT CARES SMALL BUSINESS GRANT PROGRAM:
A new one-time grant of $5,000 has been created to help small businesses and nonprofits who continue to be negatively impacted by COVID-19.
A 2019 payroll of less than $1.5 million OR 20 or fewer employees can apply
Online applications will begin the week of November 9
All funding will be disbursed by the end of the year
Half of the funds will be allocated to small businesses and nonprofits located in towns and cities that have been designated as DISTRESSED MUNICIPALITIES.
Additional information & eligibility requirements: CONNECTICUT CARES SMALL BUSINESS GRANT PROGRAM
REGIONAL TRAVEL ADVISORY & QUARANTINE: Currently, there are 44 STATES on the quarantine list.
~ NEWS FROM ORANGE ECONOMIC DEVELOPMENT ~
WELCOME TO ORANGE:
AMAZON - 48 Boston Post Road, the new delivery station opened on October 27th and is housed in the former Lowe's and Sam's Club properties. This site will employ more than 100 full and part time employees. Read the PRESS RELEASE
BIGELOW TEA - 35 Executive Boulevard, leased the new warehouse to expand the company's storage and distribution capacity. Read the PRESS RELEASE
BENSEN-FURGUSON HOCKEY LACROSSE CLUB - 326 Boston Post Road, Ferguson's Center Ice Sports (Orange) and Whitie Bensen (West Haven) have merged under one roof at 326 Boston Post Road. The store offers lacrosse, figure skating and hockey skating items and services.
LATIN ESCAPE - 501 Boston Post Road, serving latin and american fare open for lunch and dinner.
OEDC EVENTS:
Orange Community Farmers - Holiday Market: 11/19, 3:30 to 7:00 pm, High Plains Pavilion, 525 Orange Center Road, some of our 2020 farm market vendors are returning and some new vendors at this one-day event. CHECK WEBSITE for more infromation. Masks required to enter!
Economic Outlook Virtual Event: 1/13/21, 9 am, David Lehman, Commissioner of Connecticut Department of Economic and Community Development (DECD) will share his perspective on the regional state and national economy for 2021. Free to attend; registration is required. Call 203-891-1045 to register prior to 12/1 (online registration will be available beginning December 1).
Artisan Market & Vendor Fair: Save the date 6/17/21, time to be determined. A great selecion of artisans, makers, farmers and small business owners from the area. Food trucks and live music. This is an outdoor and indoor event. Vendors wanting to participate, call 203-891-1045.
ORANGELIFE MAGAZINE:
The winter edition has gone to print and will be mailed the week prior to Thanksgiving.
RIBBON CUTTINGS:
Orange Country Squire Barber Shop
661 Orange Center Road
203-795-6141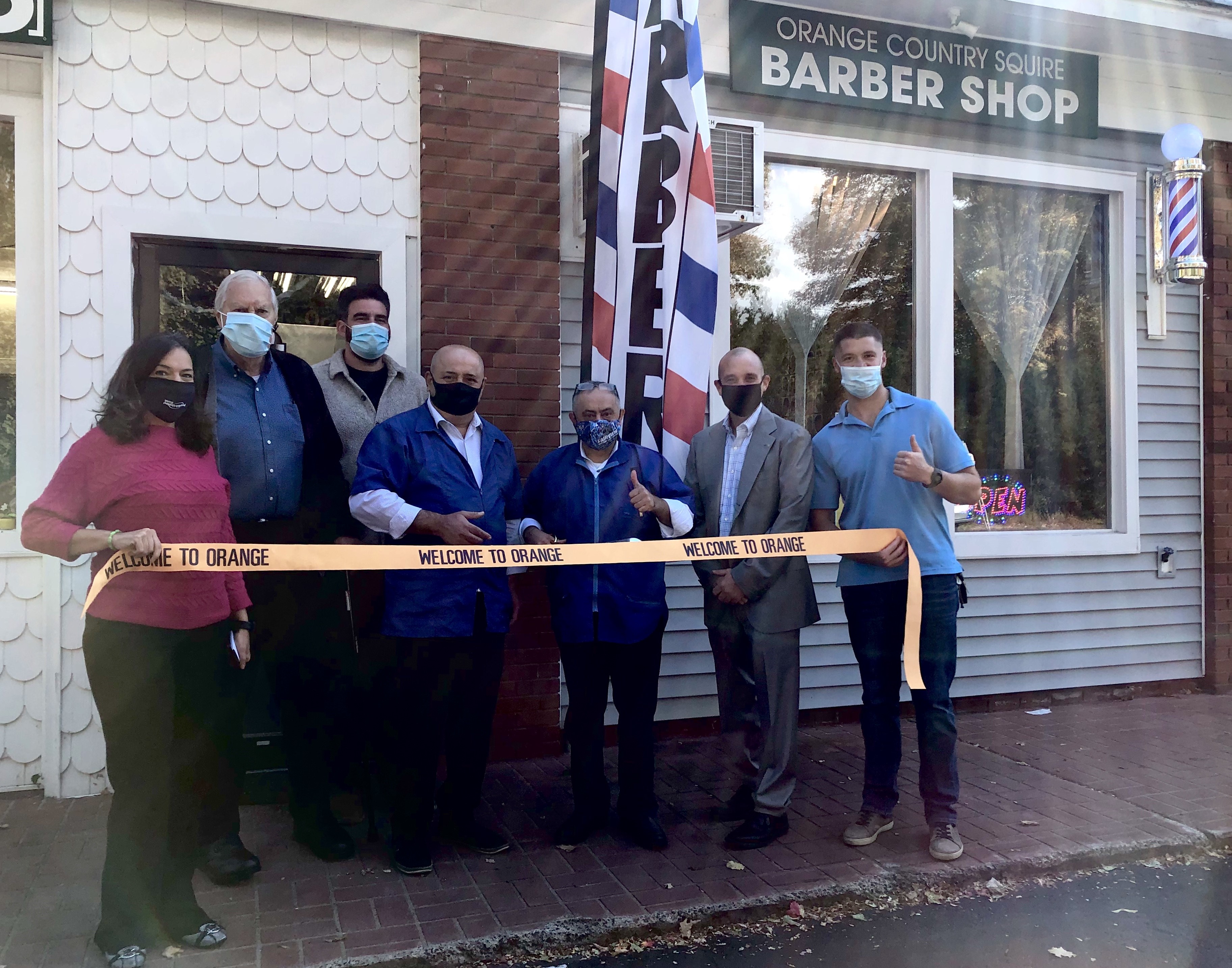 ---
9/25/2020
Phase 3 Reopening the Economy
«
previous
11/17/2020
Small Business Grant Application & More
next
»